STEVEN CAGAN
Author, Composer, Lyricist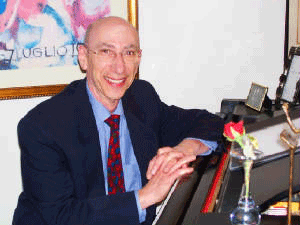 From musical director for the First National Company of DREAMGIRLS, (starring the extraordinary Jennifer Holliday), to composing, arranging and conducting for some of the great performers of our time, including Melissa Manchester, Bette Midler, Diahann Carroll, and Georgia Brown, to his work for film, television and Madison Avenue, Steven has done it all in the music world. He has worked with some of the theatrical giants of our time, including the legendary Michael Bennett, Lester Wilson, Michael Peters, Bob Avian, and Joe Layton. He is a classically trained musician, graduating from the esteemed New College at Hofstra University. His choral works were premiered there, as well as early theater pieces, some performed by his classmate, the late theater and film star Madeline Kahn. He studied composition with Elie Seigmeister, David Diamond, Lukas Foss and George Rochberg, and arranging with Kermit Levinsky and Tommy Newsom.
Steven was in the inaugural class of the famed Lehman Engel B.M.I. Musical Theatre Workshop. At the same time, he launched one of the busiest commercial music companies on Madison Avenue. He wrote and arranged many popular jingles for television and radio for Chevrolet, Ford, State Farm Insurance, Coppertone, (which launched Melissa Manchester's singing career when she was fifteen years old), and many others. Concurrently, he composed a number of ballet scores for Tony-winning choreographer-director Lynne Taylor-Corbett's Theatre Dance Collection. Among his early film assignments was as arranger and orchestrator for Woody Allen's classic, TAKE THE MONEY AND RUN. Later, his original score for the film THE CAT AND THE CANARY, starring Dame Wendy Hiller, Olivia Hussey, Wilfred Hyde-White and Honor Blackman helped make it a cult favorite, and it was recently released in a 'classic package' DVD. He has scored countless TV series and specials, including those with SPINAL TAP, Robert Klein, Michael Keaton, Lainie Kazan and Rob Reiner.
He appeared as guest musical director on the famed "Tonight Show with Johnny Carson" numerous times. Steven has guest conducted the Atlanta, San Francisco, Dallas and Honolulu Symphony Orchestras, the Ravinia Festival Orchestra, the Houston Pops, and others.
LOVE SONGS – A Musical won the prestigious Festival of New Works competition at the University of Michigan. The musical has had multiple developmental workshops since then, including at THE YORK THEATRE in New York City, directed by TONY-nominee, Lynne Taylor-Corbett/featuring TONY-nominee, Robert Cuccioli, a special cabaret version, at the singular request of Michael Feinstein at FEINSTEIN'S AT THE REGENCY, (see "Feinstein's" folder), featuring TONY AWARD-winner, Debbie Gravitte/directed again by Lynne Taylor-Corbett, and a six-week, critically-acclaimed run at THE CHROMOLUME THEATRE in Los Angeles, directed by Kay Cole/A CHORUS LINE. It will captivate you with its return to melody, romance, and pure entertainment. Enjoy the journey!